About State Plant Hire.
In addition to the huge range of excavation and earthmoving equipment available for hire, State Plant Hire can supply all the materials required to complete any earthmoving or excavation project.
State Plant Hire has over 25 years industry experience in environmental engineering and is regarded as The Experts in Erosion Control and Landslip Works.
State Plant Hire Pty Ltd is accredited to preform works for:
Vic Roads
Melbourne Water Corporation
Rail projects
Government Bodies
We are a Quality Assured Company – Environmental Systems OH&S AS/ANZ4801 and members of the Civil Construction Federation and International ASN.
Our Environmental Policy can be found here.
Our Quality Policy can be found here.
Our Occupational Health and Safety Policy can be found here.
State Plant Hire NEWS:
State Plant Hire take out top awards in the Civil Contractors Federation Training Awards 2017
Congratulations Ashleigh Higgins – HSE Coordinator for State Plant Hire and Statewide River and Stream Management on Winning the CCF Training Awards – "Individual Achievement in Occupational Health and Safety".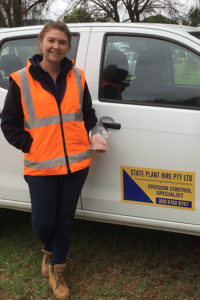 Ashleigh has been working for State Plant Hires for the past four and a half years. She started out as a labourer learning to operate some of the equipment before settling into a 30 tonne articulated dump truck that she loved to operate and demonstrated very proficient skills. Ashleigh was not afraid to get dirty and was often seen digging trenches, erecting silt fences, maintaining her dump truck and working with the boys. Here she gained an appreciation in all facets of civil works and the importance of OHS compliance.
Ashleigh enrolled and successfully completed the Cert IV in WHS in 2015 with outstanding results and has now taken on the HSE Coordinator position where she has applied here skills and field knowledge to update and dramatically improve our IMS systems resulting in greater productivity. She now spends a considerable amount of her time managing all OHS and Environmental Compliance documentation across multiple projects which requires outstanding communication and organisational skills.
Ashleigh is a valued member of our team – Congratulations Ashleigh, we look forward to continue to watch her grow and prosper in this industry.
---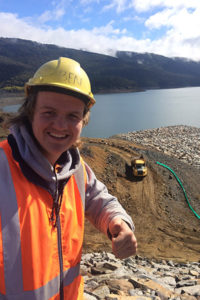 Congratulations also goes to Ben Higgins who was a finalist in the Civil Contractors Federation Training Awards 2017 for the Geoff Brown Award – 2016 Certificate III in Civil Construction -3rd Year Apprentice.
Ben is also a highly valued member of our team and continually strive for excellence in whatever task he undertakes.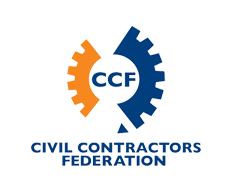 Accredited to Perform Works for